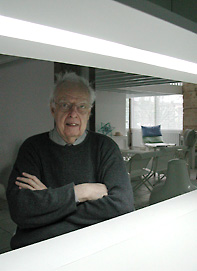 The characteristic that most typifies the career path of Fabien Vienne is its atypical character, spanning the fields of architecture, urbanism, and design. Born in Paris in 1925, Vienne moves early into a technical education path, graduating from the École des Arts-Appliqués. His work begins with furniture design and eventually ranges to city planning, encompassing along the way the development of construction systems, conception and construction of unique architecture projects, scenography design, and the invention of construction sets.
This wide-ranging versatility is born of a lifelong investigation from first principles, an evergreen curiosity, and the demands of a creative spirit that sees modernity as an art of living and a means to renewably question our society. When France is liberated from German occupation, Vienne is 20 years old. Moved by the shock of a war that calls everything into question, Vienne discovers the Modern Movement and its French progenitors. Recruited by Jean Bossu, a former Le Corbusier collaborator, Vienne joins him in the gargantuan task of rebuilding a war-ravaged country, and finds himself propelled to the heart of the French Modern Movement. He ultimately works with Lods, Hermant, and Nelson, and meets Le Corbusier, Prouvé, Perriand, Perret, Hanning, and Miquel, among others. These encounters decisively engage him in architecture and, like his predecessors, Vienne's learning is immersive, a baptism by fire in the concrete experience gained within the architecture firm and onsite in a fast flow of post-war reconstruction projects.
In the early 1950s, he relocates to La Réunion, a French overseas territory in the Indian Ocean, to supervise the building sites of Jean Bossu and to set up the local office. The task is enormous, the resources limited, and the workflow incessant. This adventure overseas will mark him deeply and upon his return to continental France, he forms his own firm, SOAA, an architecture co-op still in practice today, executing a corporate charter that embodies Vienne's vision of existence and human relations.
Vienne's singular professional path aligns with an output entirely unique in France at the time. Not having graduated in architecture (until 1977), he almost completely misses the subsidized housing boom of the headiest years of economic growth. His commissions come mainly from private developers, most often building contractors, with whom he forms enduring ties beyond a simple professional relationship. Thus able to avoid the standards and practices established for mass-produced residential buildings, Vienne can explore, for his partners or himself, alternate paths missed or ignored by other architects, and demonstrates a capacity for adaptation and remarkable invention. For example, he develops EXN, a flexible construction system so versatile and economical that it is used to build wood houses of all sizes by the hundreds in La Réunion (still used today). This system, a proven success as an industrial process, is in turn the outgrowth of several prior research and construction projects, such as the Trigone system (1968), used to construct vacation villages (Val d'Yerres, 1971). Similarly, Vienne's vision takes form in a whole village of modern houses arranged on a hillside in cascading strips, where one might have imagined only blocks or towers at the time (Notre-Dame de la Garde, La Ciotat, 1968). For a furniture maker, Vienne designs a full range of furniture components, designed on a modular basis that employs them as an integral set of parts that are complementary, related, and articulated, not only from a formal standpoint but in terms of production and use as well (COX, 1969-74).
Vienne's capacity for adaptation takes form not only in the variety of scales addressed in the course of his career (from small everyday objects to urban plans), but also in the range of projects taken on ; houses, schools, office buildings, factories, universities, apartment complexes, a hotel, a healthcare center, among others. This quality is perhaps most visible in the diversity and relevance of the fit-to-purpose architectural solutions Vienne has brought to the table.
Beyond what links Fabien Vienne with other modern architects of his generation, his distinctive output is fundamentally rooted in his love of geometry and in the principle of economy. For Vienne, geometry is much more than a mere tool of composition, it's an epistemology – a way to understand the world and to express its underlying laws. The principle of economy embodied in Vienne's work goes beyond a mere accounting of the art of building. It is the quest to find the essential in a problem and to then "substantiate" it in a solution which brings that essence to light and to life.
Translated from French original text by Xavier Dousson - February 2007

complete biography (148 KB PDF file - in French)